---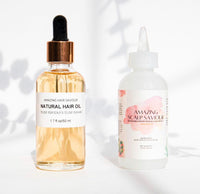 Sale
Treat the Hair and Scalp together with this power house duo! As per popular request this bundle includes both Amazing Hair Saviour & Amazing Scalp Saviour at a bundle price! The perfect Holiday gift! While quantities last!
Amazing Hair Saviour penetrates root to ends for maximum hydration.  It aids in hair growth and thickening hair with the use of all natural ingredients including Coconut oil, Almond Oil, Nigella Sativa and Rosemary.
Amazing Scalp Saviour helps to rejuvenate the scalp and treat any scalp stressors like dandruff, psoriasis, and dry itchy hair and/or scalp.  It also helps to reduce frizz in the hair with the use of Aloe vera and Eucalyptus.  
How to Use:
Use by applying one or the other on the scalp leave in for 1 hour or overnight for maximum benefits. 2-3 times a week ideally.  Shampoo out and follow with conditioner.  Amazing Scalp Saviour can be uses as a leave in conditioner on towel dried hair.