---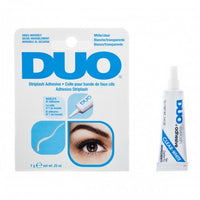 Sale
DUO's Striplash Adhesive is the world's bestselling lash adhesive and has been a favorite of professional makeup artists for decades. This latex-based formula was created for all day wear, and can be used with strip and individual lashes. Applies white but dries clear.
Key Benefits:
Thoroughly clean your eyelashes and eyelids so they are make-up and oil free.
Check Fit: Lay lash on top of your natural lash. If it extends beyond your lash line, trim the excess with small scissors.
How to use:
Apply Adhesive: Squeeze a small drop of Adhesive along the lash base.
Wait about 10-15 seconds for adhesive to set.
Apply Lash: Place the lash as close to your natural lash line as possible.