---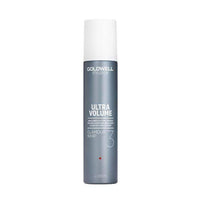 Glamour whip styling mousse adds volume with a strong yet flexible hold; for all hair types.
Key Benefits:
Provides extra care and luminosity to dull and stressed hair
Bamboo proteins help keep the style natural and flexible
UV filter protects the hair from premature colour fade, damaging effects of heat styling and UV light
Directions for use:
Dispense about a ping pong size ball into your hands. 
Emulsify into a liquid in the palm of your hands and apply to the roots of towel dried hair.
Blow-dry or curl as desired.
Pro Tip: For extra volume double the size of the product used and disperse throughout the whole hair.
Available Sizes: 300 ml