---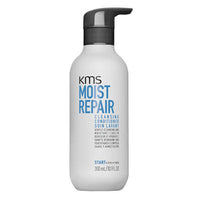 Catering specifically to dry damaged hair, Cleansing Conditioner delivers the benefits of shampoo and conditioner in one innovative formula, for all hair types.
Key Benefits:
Lightweight blend gently refreshes and purifies hair instead of over washing from shampooing daily
Infuses moisture and hydration to stressed hair
Gently cleanses and conditions 
Moisturizes stressed hair
No shampoo needed
Combats split ends and breakage
Pro Tip: If you like to wash your hair daily, use 2-3 pumps of cleansing conditioner instead of shampoo to make sure your not stripping and over washing your hair. Get a cleansed feeling without the shampoo. Great to use before an up-do as to not strip all oils from the hair allow hair to be moldable for up-styling. 
Available size: 300 ml